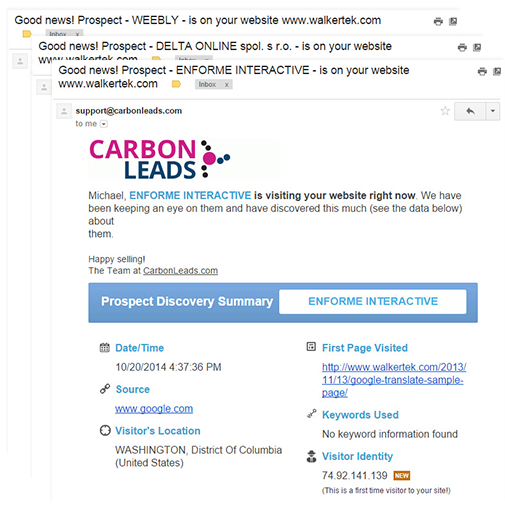 Instant Emails from Visitors on Your Website
Get emailed whenever a company visits your website. Find out who it is and what they're interested in. No waiting for analytics, no looking at confusing reports. Real lead information at your fingertips!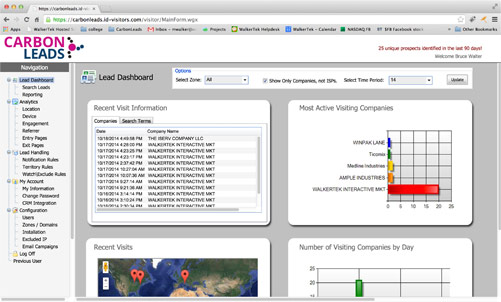 Complete Control Through Your Dashboard
The Carbon Leads dashboard offers complete control over your account. Review lead history, edit your watch list, filter your emails and more!
Leverage Your Current Website and Search Marketing
You are spending money to drive prospects to your website. Energize your sales team by letting them know who is looking at the site!
Designed for Business To Business Sales
Sorts out the 'consumer' visitors so your sales team is not bothered with false alerts.
Designed For Sales Not Tech
This is not a replacement for analytics. This is designed to give sales people the information they want – empower your sales team with more information.
Easy Install - No Maintenance
It will literally take your webmaster 5 minutes to install. Simply paste in our code into your website. We host it, we run it. There is nothing for you to do other then follow up on sales leads.
The Information Your Sales Team Needs
General web stats provide you with useful information on your website's performance. But sales teams don't care how many people are coming to the website, they want to know WHO is coming to the website. Carbon Leads provides them with the information they need quickly and conveniently in their inboxes.

The email alerts are the workhorse of Carbon Leads. It is an instant notification that you will receive when someone is visiting your website. The email includes the following information:
Prospect Company Name
Date/Time
Source (Where the visitor came from)
Location
First Page Visited
Keywords Used to Find Your Website
Visitor's IP Address
If we have contacts in one of our databases, we will include them in the email show you:
First Name
Last Name
Job Title
Email Address
We then provide you with additional information and links to make it easy for your sales team to research the prospect. We link to the company on the following sites:
LinkedIn
Twitter
Facebook
Data.com
Google (news, blogs, local)
Youtube
Hoover's
Slideshare
and more! This is followed by a summary of the leads activity on your website, including pages viewed, time spent on them, and any previous activity on the website. At the bottom of the email, we provide easy to use buttons to allow you to add the prospect to your Watch List, ignore the user if they aren't a good lead, and login to your dashboard to look up any historical information you need.  

The Carbon Leads dashboard provides full control over your account. Search through leads, edit your alert settings and more.
Lead Dashboard
Analytics

Location
Device
Engagement
Referrer
Entry Pages
Exit Pages

Lead Handling

Notification Rules
Territory Rules
Watch/Exclude List

My Account

My Information
Change Password
CRM Integration

Configuration

Users
Zones
Installation
Exclude IP
Email Campaigns
The Carbon Leads system runs automatically in the background allowing you to focus on sales. Our system is maintained on a continuous basis and our databases are updated with the latest information.
How it works:
Easy, Simple, Automatic. – After only a 5 minute install, you will be receiving real time updates of the visitors to your website.
No Maintenance. No Consultants. No Implementation. – We do all the work, all you need to do is follow up on those leads and close the deal!
It's like Caller ID for your website!
Take advantage of 12 Sources of Information Research… Information is Power! Don't be left in the dark, let Carbon Leads provide you with information rich alerts on your prospect and their company.
Signup Today and Start Getting Leads
Join today and let your sales team tap into the full potential of all your marketing efforts. Sign Up Now